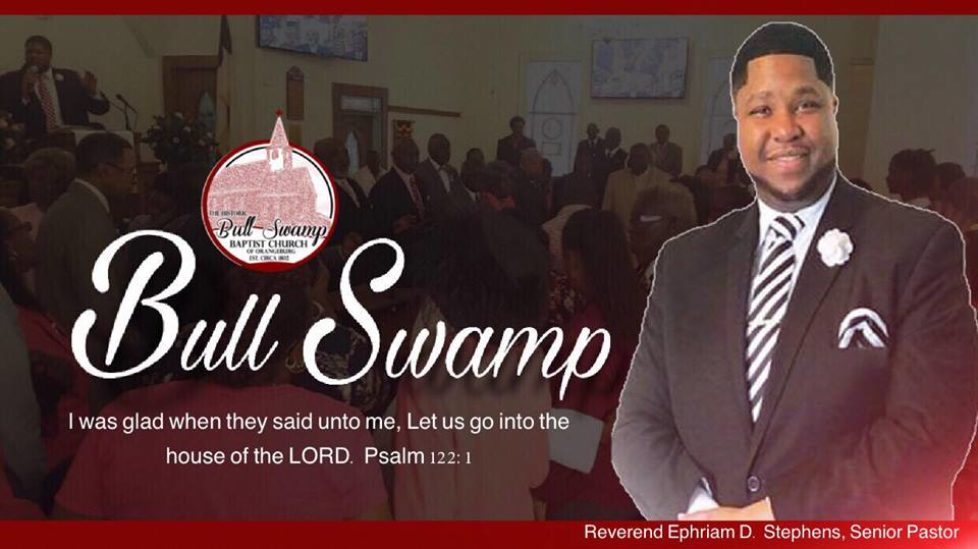 Welcome to the Bull Swamp Baptist Church of Orangeburg, SC
Pastor Ephriam D. Stephens, officers and members invite you to join us in the sanctuary for the Worship Experience each Sunday morning.

We continue to pray for all of our young people, parents, guardians, teachers, school administrators, school staffs, bus drivers, and all who daily touch the lives of our children. A special prayer for the Class of 2023 as they and their families make plans and decisions for their future! 
*********************************

*********************************
5th Sunday
January 29, 2023
Reverend Dr. Ephraim D. Stephens
Devotional:  Praise Team
Music by The Mass Choir
WE ARE STILL WEARING MASKS and remember that all CDC/COVID-19 Precautions and Procedures
are still in effect for everyone's safety. See COVID-19 Updates – Bull Swamp Baptist Church
If health reasons prevent in-person worship, join the service via:
https://www.facebook.com/BullSwampMediaMinistry/
Phone: 425-436-6394Code: 489226#
Radio:  FM 88.3 (in the church parking lot)
You may give online: https://BullSwampBaptist.com/Giving
*********************************

CONGRATULATIONS TO THE CLASS OF 2022**
https://www.facebook.com/BullSwampMediaMinistry/videos/1442245769532559
**BSBC Media Ministry and Que Perry Media & Productions
*********************************

Noon Day Bible Study
January 1, 2023 - Wednesday Word @ Noon
via Conference Call: 425-436-6394  Code: 489226 #
Taught by Apostle Alphonso Myers
************************
FROM SEGREGATION TO JUSTICE: The J.A. & Mattie De Laine Lecture Film Series
Based on a True Story! "From Segregation to Justice" The J.A. & Mattie De Laine Lecture Film Series will portray the events that led to the landmark court case of Briggs V. Elliot. Witness a story of true courage and love through the perspective of J.A. & Mattie De Laine. Sponsored by The Call Me Mister Program of Clemson University and in collaboration with the Division of Inclusion and Equity, Clemson University with the Briggs – De Laine – Pearson Foundation, and consultation from the Cecil Williams Civil Rights Museum. Portions of this film will also feature the Historic Bull Swamp Church and School of Orangeburg SC, Historic Liberty Hill Church, and St. Mark AME Church of Summerton SC! View the teaser trailer below. Movie to be released on October 18th, 2022 at Clemson University!
See the link below for a teaser trailer of this important historical documentary.
http://www.motivateducation.com/the-joseph-mattie-delaine-lecture-series
Bull Swamp Baptist Church, Inc.  •  112 Purity Street  •  Post Office Box 752  •  Orangeburg, South Carolina 29116
803-534-8951
************************
The ABC's of Salvation - Bull Swamp Baptist Church https://bullswampbaptist.com/the-abcs-of-salvation/
Giving - Bull Swamp Baptist Church https://bullswampbaptist.com/giving/